Your Italian Band
If you are looking for a group of talented musicians to play those Italian-American tunes (Dean Martin, Carosone, Ray Gelato and more) for your wedding or event in Ravello Italy we're the Italian Swing band for you. We're available to provide a great and fun performance for your Ravello wedding.
Italian Wedding Band | Ravello | Watch & Listen
Watch a sequence of Italian Swing all time hits performed live by the Italian Swing Band.
The Italian Swing Band
The Italian Swing Band is composed of five talented musicians: male singer, sax, piano, bass, drums. We perform in Ravello and in other great locations in Italy.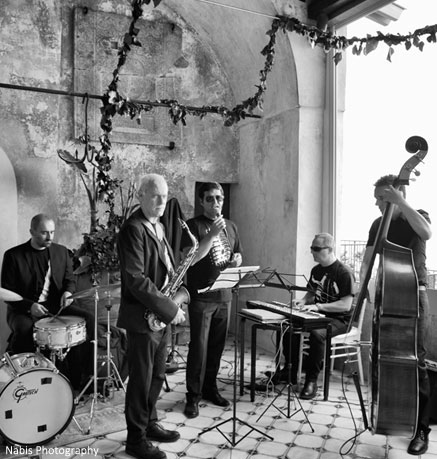 Wedding Music & Events
The Italian Swing Band is available for your unforgettable wedding music and for events in Ravello Italy.
Italian Band's Repertoire
The repertoire ranges from Italian Swing and classics such as "L'Americano", "That's Amore", "Mambo Italiano", "Volare" and many others, to Jazz Ballads and Swing, and includes current POP hits.
Italian Swing & Beyond
The Italian Swing Band also provides a wide repertoire of Jazz Ballads & Swing, Classics, and current POP Hits, just in case you'd like to listen to that popular hit of the moment for your wedding in Ravello.

PLEASE NOTE | Our performers can only be booked by the couple and directly through this website.
Send us your email
If you want to hear from us pop your email in the box.
We think that spam is for jerks. And jerks we are not.

The Italian Swing Wedding Band - Ravello